We are pleased to announce a FASD Webinar  …
A night of Lived FASD Experience
Link for the Event flyer:  A Night of Lived Experience June 8
** note the recording video takes a few minutes to load due to the file size 
The event is a 'Night of Lived FASD Experience'. We often get asked to have individuals talk to Families, Parents & Caregivers on their experiences over the years with housing, employment, family and/or outside supports, and how one deals with the day to day challenges. The webinar will be a panel of four individuals who will share their experience!
---
Feb 22

 LINK FOR RECORDING
*** We respectfully ask that you please do
NOT

share the link externally or use the video for external training.     

Handouts/Slides

LINK
---
---

---
---
---

Dr. Mela's Book on FASD   LINK
Dr. Mela CanFASD Medication Algorithm LINK
Link to open access Algorithm Article:LINK
Link to Cannabis study: LINK
---
Halton Support Group Adults 18+ Guest Speaker  Tynessa Walters from Contact North 
Date:  Mar 9, 2022 07:00 PM Eastern Time (US and Canada)
Synopsis:  Tynessa Walters will to explain how Contact North can help your individuals with exceptionalities and other learning challenges an opportunity to follow their educational path.  Contact North provides information on available online courses from Ontario's 24 public colleges, 23 public universities, indigenous institutes, 76 district school boards, 200 literacy and basic skills providers, and 20 skill development training providers.   https://contactnorth.ca/  Link for Flyer: LINK
Zoom link:  LINK
Meeting ID: 882 6148 0056    Passcode: 885833
---
Hamilton FASD Resource team
2022 FASD Webinar Series 
Transition to Adulthood (identify why planning is important and the key areas to consider in the planning)
FASD in school (provide information about what would be helpful in the school environment)
FASD Snapshot: Information, Intervention and Best Practices (Provide overview of basics of FASD, and hit some key areas in a quick way).
**  Each Webinar is being offered twice, once in the day, and once in the evening. Click 2022 Hamilton Resource Team FASD Webinar for the event flyer.
---
Community Living Ontario Training events
 1. Legal Guide to Engaging Support Workers for People with Disabilities on Tuesday February 1 from 7 – 8:30 p.m.  Register here:   LINK
2. Estate Planning Guide on Wednesday February 9, 2022 at 7:00 p.m.  Register here: LINK
3. Ontario Caregivers Association SCALE Program for caregivers for February and March.  Please review the poster SCALE program_Feb Mar 2022
---
*
PLEASE also check the Events tab for other training events *
RAISING & SUPPORTING

AN ADULT WITH FASD
LINK FOR RECORDING: 

LINK


SPEAKER: Brian Philcox
DATE: Wednesday January 12, 2022 @7pm
Brian, with his wife Bonnie Buxton, co-founded FASworld, a charity dedicated to raisingawareness for FASD and supporting caregivers.Bonnie is author of Damaged Angels, one of themost influential books to this day on FetalAlcohol. In addition to being parents of two daughters, including one on the Spectrum,distinguished careers and work in the FASD field, they developed the idea of the first FASday, and introduced it to the world in 1999.
TO REGISTER OR FOR MORE INFO:  for the Zoom link,
please contact Brenda Pinkus 905-523-9835
or Email fasdhaltonadult@gmail.com
Link for Flyer: FASD Halton Adult Brian Philcox Presentation
---
CareGiver KickStart – Education: Acheive Greatest Potential

Date:  Nov 10, 2021

Slides:
LINK
---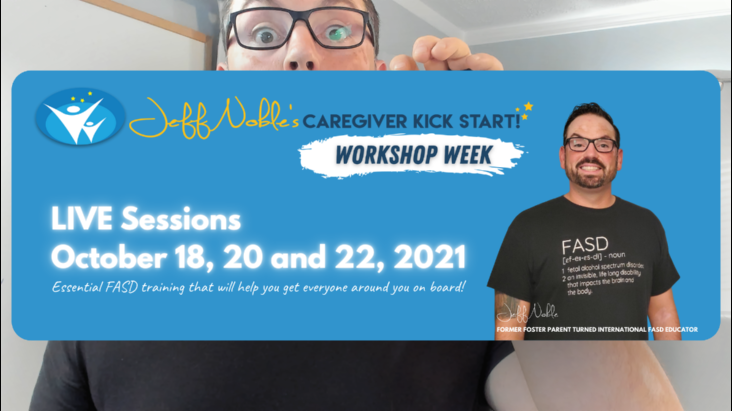 WHEN:  October 18, 20 and 22   – 2021
COST:    Free
We are pleased to announce Jeff Noble's CareGiver Kickstart  Workshop week ...  (our thanks to Jeff for providing the event and info that follows)
If you're a parent or caregiver to an individual with Fetal Alcohol and you're struggling, things can start getting better and soon.
It's almost time for my free once-a-year Caregiver Kick Start Workshop. This workshop is designed to give you a better understanding of Fetal Alcohol Spectrum disorder, so you can have better days at home, and get those around you who don't understand FASD on board.
Gain the confidence through this workshop to go into meetings prepared to get others to understand your loved one's challenges with FASD so that you can get the resources necessary for them to succeed in every area of life.
This workshop is delivered once a year to help parents and caregivers get a deeper understanding of Fetal Alcohol Spectrum Disorder so that you can have better days at home and have confident conversations with others about FASD.
---