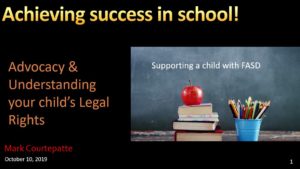 Caregiver Kickstart 
October 10, 2019
Link for slides  FASD CGKS 2019 10 10 v3
---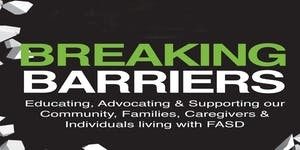 FASD Breaking Barriers Conference


Date:  Friday October 18th, 2019


Time:

8:00 a.m. to 4:30 p.m. 


Location:

Royal Botanical Gardens, 680 Plains Road W. Burlington. ON

Summary:
Don't miss this opportunity to come and learn more about FASD and how we can work together to remove barriers and improve the quality of life for individuals living with Fetal Alcohol Spectrum Disorders.  Keynote speakers Judy Pakozdy and her son Matthew will share what they have learned and how to support success for individuals living with FASD.
Bios for Judy & Matthew: Bios for Judy and Matthew Pakozdy

Summary of Speakers / Presentation:
• Sheilah Laffan – "Opening Yoga /Mindfullness" 
• Flora Ennis, Nicole Schween, Michelle Ennis and Michael O'Riordan (Woodview) – "Camp Unity: Junior Leadership Program for Youth with FASD"
• Denise Kollee, Tanya Hall, Brenda Pinkus  – "The Halton FASD Collaborative Experience /Supporting Community Change "
• Brendon Pooran (Pooran Law) – "Estate Planning and Disability Trusts"
• Dr. Kaitlyn McLachlan (CanFASD) – "A Canadian FASD Snapshot: CanFASD and the National FASD Database"
• Matthew Pakozdy "We're just different"
• Lisa Colombo and Staff Sgt. Brenna Bonn "FASD Waterloo – REACH For It"
• Judy Pakozdy (Parent/Advocate) – "This Is Us"
• Savanna Pietrantonio – "Having a Loving Relationship with your child". Savanna will also share her impactful presentation on her lived experience with FASD as presented to Minister Smith MCCSS 

Event Flyer: FASD Conference Flyer 2019 RB
ALSO:  includes FREE parking, breakfast, light lunch and snacks!

For more info: Contact Mary Ann Bunkowsky at FASDfasdhalton@gmail.com or 905-978-0826

To Register: please use the following Eventbrite link CLICK HERE
---
Halloween at Heartland Forest Spooktacular Event
Date: Oct 12, 2019  noon-3:30pm
For Youths with FASD and their families.  Includes lunch, woodburning crafts, mini-putt, hiking.
Event flyer: Happy Halloween at Heartland Forest 2019
To Register or more info: Registration Form Haloween Oct 12 2019
Where: 8215 Heartland Forest Rd., Niagara Falls
** Our sincere thanks to FCC Niagara for extending the invite!
---
MCCSS Survey on Child Welfare System
The Ontario government wants to make transformational changes to Ontario's child welfare system to give every child, youth and family the supports they need to succeed and to thrive.
To help guide improvements, the government is seeking advice and recommendations through an online survey from individuals who have experience with the child welfare system.
Deadline:  Oct 11, 2019
For more info and Link for survey:  Link
---
Estate Planning Seminar with Brendon D. Pooran  
In the event you missed the Estate & Disability Trust seminar on June 8th with Jennifer Stebbing, we are pleased to announce another seminar ….
Please see details below/flyer attached.  RSVP and you will receive the current Community Living Ontario Inspiring Possibilities Estate Planning Guide
Thank you to the Halton FASD Parent/Caregiver Support Group for extending the invite AND to Irene Knight and Bob Neshevich for arranging this fantastic opportunity.
Date:  Tuesday June 25, 2019
Time: 6:30-8:00 p.m.  (Halton regular support meeting to follow @8:00-9:00pm)
Location:  Sobey's Supermarket Community Room, 1250 Brant. St. Burlington
Event Flyer 

PooranEstateSeminar


RSVP to Mary Ann Bunkowsky  email fasdhalton@gmail.com 
---
Disability Trust Seminar
Date: Saturday June 8, 2019  
Location:  Rygiel Community Living Boardroom 220 Cranbrook Dr, Hamilton, ON L9C 5V7
** The event will also be available via live webinar

Cost:  Free$
Speaker:  Jennifer Stebbing; Ross & McBride
Speaker bio:  Jennifer practices predominantly in the area of estate planning, administration and accounting.  She focuses on ensuring her clients wishes are respected after they pass away.  Since her call to the bar in 2009, she has practiced in estate law; first as a litigator and now as a planner and administrator.  Focusing on the issues of the elderly has allowed her to specialize in assisting clients with the transition from working to retirement and beyond. She is uniquely situated to assist with any planning needs given her designation as a Certified Professional Consultant on Aging (CPCA).  Jennifer completed her Bachelor of Arts (Honours) at the University of Windsor in International Relations and went on to complete two law degrees with cum laude honours at the University of Ottawa and Michigan State University with a specialization in International Law.  Jennifer is working on her LL.M. specializing in Tax at Osgoode Hall Law School and is expected to complete it in the summer.  Jennifer is a volunteer at heart and is involved in many different local organizations and spends her spare time hiking and participating in various community events.
Presentation Summary: One of the biggest fears parents and caregivers have is "what will happen to my child after I am gone …".   The seminar presentation will discuss a number of key options such as Henson Trusts, disability trusts, and estate planning.  Henson trusts have some advantages, however there are also a # of challenges with the Henson Trust.   Jennifer will speak about the various trust options and their advantages and disadvantages.   This is a "MUST SEE" event!!
Materials:  
Estate Planning Booklet BOOKLET Planning Ahead
Jennifer's BIOJennifer Stebbing bio
Henson Trusts Presentation Henson Trusts.2019
Link for Recording: TO BE ADDED ASAP
---
Sandy's Law – sign redesign survey 
Sandy's Law sign was launched in 2004.  The current sign is being redesigned.  HealthNexus Best Start have released a survey requesting input from the public.  
Survey deadline:  closes June 15, 2019
Link for survey: LINK
Comments:  on a personal note, we do not like any of the 3 draft replacement sign options.  Our key concerns are:
The wording is the same as the current sign however research since 2004 supports far more explicit warning,
It does not address common misconceptions such as "alcohol" means any type or timing (no safe amount or time)
The sign colors are very light and will be less visible versus the sign today
Most establishments do not "prominently" display the signs as per the law – We strongly suggest that when the AGCO send the new signs to establishments they include clear advice on the legal requirement that they must be prominently displayed (i.e. if the person cannot easily see and read the sign during their purchase .. the sign is not in compliance with the law.
---
CanFASD – Ontario government have not renewed membership 
The government of Ontario have not yet renewed their membership in CanFASD.   CanFASD researchers are currently leading 25 major projects related to FASD prevention, intervention and diagnostics. CanFASD connects researchers, graduate students and practitioners from communities and institutions across Canada, and internationally.  Please write your local Ontario MPP and ask them to support the renewal of CanFASD.  To assist, here is a draft letter which includes a link with the MPP contact info CLICK TO DOWNLOAD MPP-letter-re.-CanFASD-Membership-renewal-v3
---
HWDSB Mental Health Advisory Group – invite
The  Hamilton-Wentworth District School Board (HWDSB) is committed to identifying and eliminating systemic barriers from schools and classrooms to enhance student and staff well-being.  HWDSB wants to continue to build positive culture and well-being throughout its schools – and needs the community to help make this happen. In support of this commitment HWDSB is establishing a Student Mental Health Advisory Group and a Caregiver Mental Health Advisory Group to support the development and implementation of the Board's mental health strategy –We Help.
Please refer to the the invitation flyer for more info We Help Mental Health Advisory Group Invitation 
---
Respite Services Research Survey – McMaster
A group of student occupational therapists in their final year at McMaster University are currently completing a research project looking at respite care programs, and the needs of families accessing respite services. They contacted us to ask our members (families that have children with special needs) to assist by completing a short survey.  Link for more info Respite Services Research Survey Family Flyer 
and Respite Information Document- Families 
---
Changing the Script – Relationship is Key
Changing the Script is a 10-week program designed to help participants understand how their child(ren) with Fetal Alcohol Spectrum Disorder (FASD), (and their own) previous life experiences have shaped their respective views of the world and their behaviours. Changing the Script is a facilitated group process which encourages sharing and reflective discussions within a safe, supportive, non-judgmental environment.
Date: Wednesday evenings May 1 – June 26  2019 (2nd group in Etobicoke in Sep)
Time: 6:30-8:30 pm
Location: CAS Scarborough Branch- 843 Kennedy Road, Scarborough
Cost: thanks to funding from The Circle for Children Foundation, this offering is available at no cost to participants.
For more info and to register:  Changing the Script Flyer 2019
---
Dr. L.A. Scott speaking on FASD and Sleep Hygiene.
Date: Thursday April 4, 2019 1:30pm – 3:30pm
Location: Family Counselling Ctr./Family and Children's Services, Niagara 82 Hannover Drive, St. Catharines, ON
LINK FOR MORE INFO AND TO REGISTER LINK
---
 Quite a Stretch Yoga
Yoga for Warriors – 
Wed April 3 – June 5 from 8-9pm
Thurs April 4 – June 6 from6-7pm Medical Professional only
Friday April 5 – June 14 from 5:30-6:30pm
Sunday April 7 – June 30 from 2-3pm
Link for more info and to register: Yoga SPRING Warriors 2019  
Yoga for Kids Programs – 
Saturday April 6 – Sunday June 30th
Link for more info and to register KIDS SPRING Programs 2019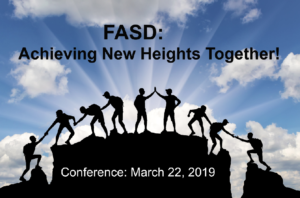 DATE: Friday March 22nd, 2019 
The conference is a collaboration of the Hamilton and Halton FASD Support Groups.    The focus of the conference is that we can achieve new heights by working together!
Speakers:  A brief summary of the speakers and their session title follows:  
Sheilah Laffan – Opening Yoga /  Mindfullness – "Reaching New Heights to Share your Passion for Compassion"  
Link for website:  Link

Yvonne & Nicole Williams (parent/daughter presentation)  Nicole presented "Growing up with FASD"  PRESENTION SLIDES LINK  and Yvonne presented "FASD" Advocacy and what I learned so far".  PRESENTATION SLIDES LINK

Professor Shiva Singh (University of Western Ontario) -presentation: "Exploring the molecular iceberg model for FASD: a hope for the future".  PRESENTATION SLIDES LINK

Dr. Olaf Kraus de Camargo (Ron Joyce Centre, McMaster) – presented "FASD at the Ron Joyce Children's Health Centre" PRESENTATION SLIDES LINK

Justine Kormann & Matt Penman HWDSB – presented "The Power of Validation" PRESENTATION SLIDES LINK

Jeff Noble – Presenting "The 4 Keys to FASD Success"

An open Q & A panel with Savanna Pietrantonio …. Darlene Durand .… and RJ Formanek (Jeff Noble to MC) 

And a brief presentation of "The top things I want you to know about FASD" by Justin Veale – PRESENTATION SLIDES LINK