FASD Conference March 2019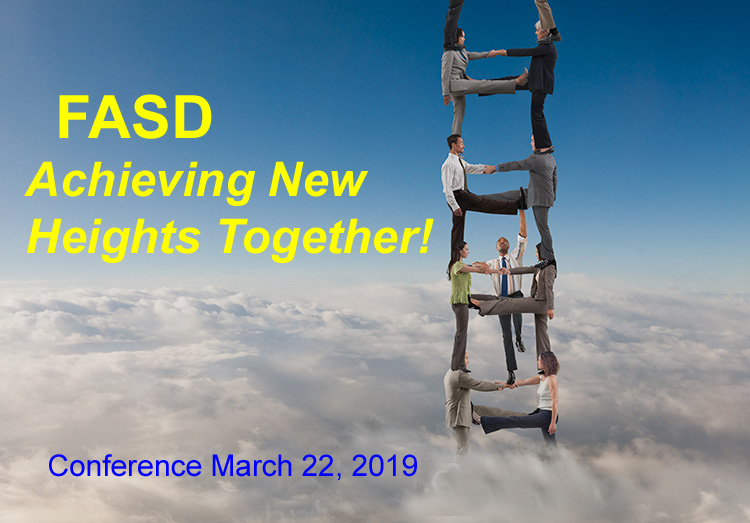 DATE: the event is planned for Friday March 22nd, 2019 
TIME:    8:00 a.m. – 5:00 p.m. (includes continental breakfast & lunch) 
Location: the Waterfront Hotel Burlington https://www.waterfronthotelburlington.com/   The location is at Brant/Lakeshore in Burlington.  
Conference Title: "FASD – Achieving New Heights Together".  The conference is a collaboration of several FASD support groups; Hamilton, Halton, and London.    The focus of the conference is that by working together we can achieve new heights!
Speakers:  We are presently finalizing the speakers ..  however here is a "hint" of several confirmed speakers as noted below.  
Parent and Daughter (with FASD) joint presentation – Yvonne & Nicole Williams.  Yvonne has an excellent FASD blog (https://oursacredbreath.com/ ).  They have been doing a # of presentations, including recently the Ottawa FASD Support Group meeting.  
Professor Shiva Singh (University of Western Ontario) – known for FASD genetic research. https://news.westernu.ca/2014/11/study-confirms-dangers-of-fetal-alcohol-exposure/
Dr. Olaf Kraus de Camargo – FASD at the Ron Joyce Children's Health Centre 
A number more pending confirmation!!!
Cost: Pending final budget calculations.  Our sincere desire is to keep the cost as low as possible for parents & caregivers. 
Registration:  info on how to register to be added soon!!
We are very excited about the planned conference!  Please mark the date on your calendar … more info to follow ASAP.
---
Halton FASD Bottle drive to Support FASD 
A Halton FASD Support Group member is organizing a bottle drive (empty beer, wine, and liquor bottles and cans) to help support Halton FASD.
The Moffatt family are organizing this event as they want to give back to the community!   
In Halton Region:  drop off at 819 Miltonbrook Crescent in Milton OR contact Tim (info below) to arrange for pick-up on your porch
Outside Halton Region:  Are also most welcome to participate.  Please contact Glenda at 905-746-8954 (mobile) to arrange a pick-up.
When:  between now and January 5th, 2019.
Contact:  For more info or to arrange a location for pick-up please contact Tim Moffatt  call or text cell @ 289-979-8828 or email tim.moffatt@gmail.com
---
Family Weekend Workshop "Creating inclusive Lifestyles through valued social roles"
DATE: Friday Nov 30, 2018  6:00-9:00 p.m.
AND Saturday Dec 1, 2018   9:30 a.m.- 4:30 p.m.

Synopsis:  This workshop will provide opportunities to think and learn about the following topics:
What a truly inclusive lifestyle really is
Why it is so difficult to create inclusive lifestyles on behalf of/with people with significant disabilities
Positive examples of people who were excluded from society who now have inclusive lifestyles
The power of valued social roles to create the potential for inclusive lifestyles
Practical application of the ideas: Family members will have time to create a vision of valued social roles that their family member might like to try and also to develop a plan of action to make the vision a reality
COST:  Free $     + Accommodations available for families who require them
Location: 220 Cranbrook Drive, Hamilton, ON (Rygiel Supports for Community Living)
LINK for Flyer: Flyer for FamilyWeekendRygiel
TO REGISTER & FOR MORE INFO: Contact Paula Barrett by Nov 15th at pbarrett@rygiel.ca
---
Hamilton "Reach for It" program
Launch Date:  Saturday October 20, 2018
Time:  12:00 to 3:00pm
Cost:  $Free  Lunch included
Address:  Hamilton Indian Centre, 34 Ottawa St. N. Hamilton
For more info or to Register:  Please contact Jessica Montana at (905) 548-9593 x246
Tentative plans include:
10-12 uniformed police officers coming out to be paired with a child
Fire truck being set up in one parking lot with a team of fire fighters
Service Dog (Sasha)
Halloween dress up and photo booth station
Halloween slime station for sensory play
Halloween Obstacle course in the other parking lot
Cupcake decorating station
Decorating pumpkins
We will have a button maker station
And possibly a cultural craft such as a key chain with beads or paper plate and yarn dream catchers
A parent support circle for all parents, gifts for each child along with certificates
Medical Alert setting up a booth for kids to get their FASD medical alert bracelets. (if diagnosed)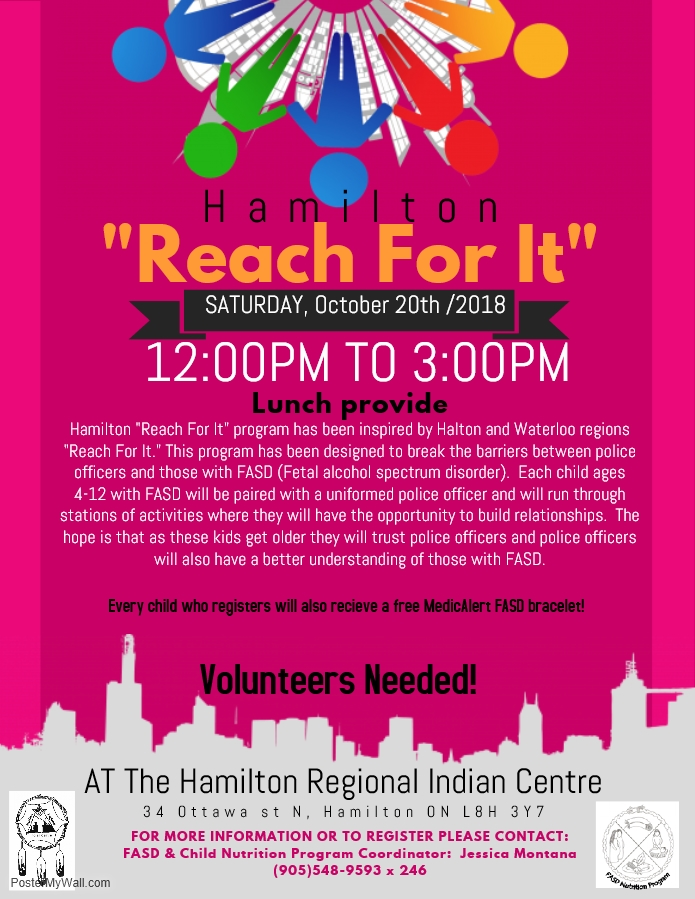 ---
Contact Brant – FASD
Lived Experience presentation 
Date: Sep 25, 2018
Slides: Presentation Link
---
Sep 9th – International FASD Day
Since 1999, September 9th is recognized across the world to bring awareness to avoid any form of alcohol for the 9 months during pregnancy (and for both mother and fathers to abstain from any alcohol while planning a family).
To bring greater awareness, we encourage our members to print brochures and to visit any establishment selling or dispensing alcohol and to verify that Sandy's Law posters are prominently displayed (meaning the sign is clearly visible and legible by anyone without having to search for the sign).  If the establishment is not prominently displaying the signage, please…
Print the FASD Sandy;s Law Brochure – Link SANDYS LAW brochure
Ask to speak to the acting Manager or person in charge.
Ask politely "Are you aware of Sandy's Law and the requirement under the Liquor Licence Act to prominently post Sandy's Law Signage".
Provide the individual a copy of the Sandy;s Law brochure
Indicate "We are asking that establishments prominently post the Sandy's Law signage in accordance with the Liquor Licence Act"
Ask the Manager or person in charge for their name.  Document their name, the establishment name, address and the date that you informed them of the Sandy's Law requirement.  If the individual is not cooperative OR if you visit the establishment and they have not prominently posted the signage – contact the AGCO to file a formal complaint at Link  The AGCO will have an officer inspect the establishment, usually within 24-48 hours.
---
4th Annual FASD Awareness Conference
Summary:  Keynote Speaker this year is Allan Mountford
Participants in this session will:
1. Gain a better understanding of the concept of FASD as a pervasive, invisible, brain-based disability;
2. Review/change our mindset in working with children with FASD in the community;
3. Learn how to apply a Neurobehavioural approach when working/living with children and youth with FASD
DATE AND TIME:  Fri, 28 September 2018
Time: 9:00 AM – 4:30 PM EDT  Add to Calendar
LOCATION: 2017 Ball Park Rd., Southwold, ON N0L 2G0
Map link: 

Link
Cost: 
Free
LINK FOR MORE INFO AND TO REGISTER:

Link
---
Bill 44 – An Amendment to the Education Act to support FASD 
Previously known as Bill 191.  Briefly, the Bill (if passed) amends the Education Act to provide for board activities to promote awareness and understanding of Fetal Alcohol Spectrum Disorder (FASD), including best practices to support pupils who may have FASD. Note that the Bill will require everyone to contact their local MPP School Board, etc. requesting that they support the 2nd and 3rd reading (link for contact info below). Brief info on Bill 191 follows…
An Act to amend the Education Act in relation to Fetal Alcohol Spectrum Disorder (FASD)
320.1 (1) Every board shall promote awareness and understanding of Fetal Alcohol Spectrum Disorder (FASD), including best practices to support pupils who may have FASD.
Collaboration –
(2) Every board shall facilitate collaboration with parents and FASD Support Groups in undertaking the promotion under subsection (1).
Link for more info on the Bill: Link 
Link for contact Info for Ontario MPPs: Link
URGENT:  We need to write to Minister Naidoo-Harris and copy the individuals as noted  below (our sincere thanks to Rob More for the template letter and info that follows).  Due to the fact the bill has passed first reading with unanimous assent and conversations are happening in the Ministry of Education, our biggest obstacle now is getting it on the docket for second and third reading. The scheduling of the docket is determined ultimately by House Leader, the Honourable Yasir Navqi in consultation with Opposition House Leader Jim Wilson and Third Party House Leader Gilles Bisson.  We need to get louder now and make it clear we see this as an election issue. Please send it to the four following people as well.  ALSO: Please send a copy your local MPP and ask him/her to request Minister Naidoo-Harris to support Bill 44:  
inaidoo-harris.mpp.co@liberal.ola.org
ynaqvi.mpp@liberal.ola.org
jim.wilson@pc.ola.org
gbisson@ndp.on.ca
Link for template letter Link
Info on "Imagine if Bill 191 is passed"  Imagine if Bill 191 is passed
---
MPP Sophie Kiwala – Private Member's Bill – Motion and Debate: Province of Ontario officially recognize Sep 9 as FASD day – PASSED UNANIMOUSLY!!!
Date: 

Thursday Dec 14th  @1:00 pm
On this day, the Bill to Recognize Fetal Alcohol Spectrum Disorder Day in Ontario passed unanimously!  Info on the proceedings and video follows.
Tuesday, December 12th Member Statement on my Private Member's Bill concerning FASD and Education – Link to Hansard, under subsection "Fetal Alcohol Spectrum Disorder"  and http://www.ontla.on.ca/web/house-proceedings/house_detail.do?Date=2017-12-12&Parl=41&Sess=2&locale=en  Link to video: https://youtu.be/ahRU7tEBWOs
Wednesday, December 13th  Member Statement on my Private Member's Motion on FASD.  Link to Hansard, under subsection "Fetal Alcohol Spectrum Disorder to Fetal Alcohol Spectrum Disorder".  http://www.ontla.on.ca/web/house-proceedings/house_detail.do?Date=2017-12-14&Parl=41&Sess=2&locale=en  Link to video: https://youtu.be/Oq_3gQdiUe4
Thursday, December 14th  Debate on my Motion to Recognize Fetal Alcohol Spectrum Disorder Day in Ontario – http://www.ontla.on.ca/web/house-proceedings/house_detail.do?Date=2017-12-12&Parl=41&Sess=2&locale=en  Link to video: https://youtu.be/Oq_3gQdiUe4
---

Hamilton FASD Conference Nov 1st and 2nd – "Moving Forward"
Conference brief:  The conference will be of interest to professionals working in the field of Social Service delivery, Criminal Justice, Education, Policing, Adult Developmental Services, Children's Mental Health, Child Welfare, and Parents & Caregivers of individuals with FASD.
The keynote speakers are:
– Donna Deboldt (link for info)
– Dr. Kaitlyn McLachlan (link for info)
– Savanna Pietrantonio (link for blog written by Savanna)
Cost:  $150
Location:  The Grand Olympia (Barton & Fruitland Road) 660 Barton St. Stoney Creek ON
Location map: map
Link to register:  Registration  or contact Viola Galamini at (905) 525-4747 ext 223 for inquiries
---
FASD Networking Group
The Hamilton FASD Resource Team have launched a FASD networking group.
Future meeting:  Tuesday September 26, 2017
Location:  Ron Joyce Centre  Rm 4-069 – 4th floor


Time:  ****9:30-11:30 am  ** Note: start time is 9:30 a.m.


Location map:  map
RSVP Please:  All are invited to attend.  If you are interested in attending, please contact Vangi Ryan-Boose at vryanboo@hwdsb.on.ca
The vision and mission statement for the networking group:  The FASD networking group is an inclusive, open and welcoming group of community members who share a common concern about how FASD  impacts individuals, families, and our community.   Our purpose is to share, collaborate, and develop a mutual understanding of needs and consider solutions from a grass roots level.
---
International FASD Day Events:
---
Friday Sep 8 – Red Shoes Rock FASD day event at Hamilton City Hall
Location:  City Hall Hamilton, (Forecourt) 71 Main St. W. Hamilton
Map link: 

Link



Venue:  

Ward One Councillor Aidan Johnson and Dr. Kaitlyn McLachlan (Univ of Guelph) spoke along with several other speakers!

The Hamilton Spec Reporter Emma Reilly did a piece on FASD day.  It was great to have the article for awareness, although there were a few errors in the article.
---
Sep 9 – "Red Shoes Rock" walk for FASD in London Ontario
The event was great!!  We had approximately 60-70 attendees.  As well, CTV News aired the event.  Link of CTV News article follows: CTV News
Location:  Westminister Family Centre 690 Osgoode Drive, London ON
---
The Halton and Hamilton FASD Parent & Caregiver Support Groups are pleased to announce ….
RJ Formanek, founder of the Facebook FASD online support group "Flying with Broken Wings" will be presenting …FASD – "It's Complicated."
Saturday, 27 May 2017 from 10:00 AM to 12:00 PM (EDT)
Summary:  Rarely have truer words been spoken, yet they fail to convey the real difficulties in talking about, and helping others understand the complex world of FASD. From the stigma that some feel, to the ethical restrictions of professionals, and dealing with all sides of this issue it really is complicated.
As a person living on the spectrum, R.J. Formanek looks to find common ground, where a core understanding of these complexities can lead to simpler conversations for all of us.
A later life diagnosis of FASD gave RJ Formanek a lifelong base of strategies when it came to thinking about FASD , and those who live with it. Combined with his own experience is the educational background that has allowed him to speak to many aspects of life with FASD, and be able to share these strategies while searching for holistic answers that address the needs of all who are impacted by FASD.