** PLEASE also check the Events tab for other training events **
---

Nate Sheets "It's a Brain Thing" 
Nate Sheets is coming to London May 15th! See the flyer below.  It will sell out fast as there's been lots of interest in Nate coming. This will be his first trip to Ontario so it's a unique opportunity. For those of you who aren't familiar with him, you can get more information at his website (www.oregonbehavior.com) where you'll find links to his very helpful YouTube videos and Podcast called "It's a Brain Thing."
Cost: $85
Date: Wednesday, May 15, 2019  8:30a.m. – 4:00 pm (includes lunch & refreshments)
Location:  BMO Centre, 295 Rectory St., London ON
For more info and to register: please refer to the following flyer ITS A BRAIN THING Nate Sheets
---
Slides for the Six Nations "Challenging Behaviours" April 26, 2018 Training Presentation  Link
Gillian Lynne video link:  Link 
Chen Miller video link: Link
---
FASD and Adulthood


Summary: Adults with FASD lived experience, transitioning to adulthood
Location:  30 Isabella St., 7th Floor auditorium, Toronto
Date:

 RESCHEDULED DATE June 16 (Saturday)


Time:  8:45 a.m. – 4:30 p.m.
Cost:  Free for parents and Caregivers of children, youth and adults with FASD
Location:  30 Isabella St., 7th Floor auditorium, Toronto
To Register:  deadline April 9 , 2018, email  hutchings.richards@sympatico.ca
Link for more info:  Link
Link for location map: Link
---
Living with FASD – Finding Purpose
Summary: A one day four part motivational workshop
Speaker:  Myles Himmelriech
Location:  Six Nations Community Hall
Date: Feb 21, 2018
Cost:  Free
Click on Flyer for more info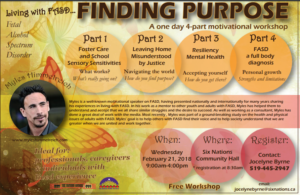 To Register: Email Jocelyne Bryne at Jocelynebryne@sixnations.ca or call 519-445-2947
---
FASD Awareness Conference
Speakers:  Myles Himmelriech & Darlene Durand
Location:  Oneida Community Centre
2017 Ball Park Road, Southwold ON
Map link:  link
Date: Feb 23, 2018
Cost:  Free
For more info  Link
---

Three Part Series – Part 1 FASD Training
CANCELLED DUE TO INSUFFICIENT PARTICIPANTS
February 1, 2018 Series 1: The Basics: Understanding FASD
February 8, 2018 Series 2: FASD Intervention Principles—Best Practices "What to do when…"
February 15, 2018 Series 3: Advocacy-Promoting School Success and Transition to Adulthood
Cost:  $Free for caregivers  ($75 for professionals – payable to Rygiel Supports for Community Living)
Flyer:  Flyer
TO REGISTER or to OBTAIN MORE INFO contact  Viola Galamini 905 525-4311 x 223 or vgalamini@rygiel.ca
Part 2 FASD Training
TBD  Session 1: Grief and Loss
TBD  Session 2: Strategies and Interventions
TBD  Session 3: Transition to Adulthood
Cost:  $TBD
** Note that you must take part 1 training to enrol for part 2.
TO REGISTER or to OBTAIN MORE INFO contact  Viola Galamini 905 525-4311 x 223 or vgalamini@rygiel.ca
MORE INFO Part 2 Flyer 
---
Essential Supports for People with FASD
Help Oregon Behavior Consultation test out our new webinar service by attending a FREE webinar! In this training, we'll talk about the essential supports that people with FASDs need, and give you practical ways to implement these supports in everyday life.
Nate Sheets, Behavior Consultant
Link for Oregon Behavior Consultation Link
Date:  Wednesday, 10 January 2018, at 2:00pm EST (** note that the event registration is 11:00 AM Pacific)
To register:  Link
LINKING BRAIN FUNCTIONING AND BEHAVIOUR: LEARNING TO WORK DIFFERENTLY, NOT HARDER – Nov 18-19 Caregivers & Nov 17 for Child Welfare workers – Toronto
Speaker:  Diane Malbin
Synopsis:  A neuro-behavioural, or brain-based, approach to addressing FASD will be introduced. This approach provides a practical structure for intervening in challenging behaviours and creating the conditions for their prevention. Over 1.5 days, we will move beyond describing behavioural symptoms to understanding the link between brain (dys)function and behavioural symptoms. This lens helps explain how many good techniques are a poor fit with the cognitive abilities of those affected by FASD. Case examples will, along with lecture, discussion and application of exercises be used to illustrate how, over time and across developmental stages, this approach has proven effective at home, in school and in the community.
Cost: $0 (funded by Circle for Children Foundation & Children's Aid Society of Toronto
Dates: Day 1: Saturday, November 18, 2017, 8:30am – 4:30pm Breakfast (8:30-9:30am)
Day 2: Sunday, November 19, 2017 9:30am – 1:30pm
Location: 30 Isabella Street, 7th Floor, Toronto, ON
Registration deadline: Friday Nov 10, 2017
Link for Registration & info: FASD November 18-19, 2017 Caregiver
Accommodation:  Closest available hotels Town Inn Suites $135/night  or Holiday Inn $149 or Courtyard Marriott $184  PriceLine Link
For Child Welfare Workers – Date: Friday, November 17, 2017
Time: 9:00 AM – 4:30 PM
Cost: $100
Registration deadline: Monday Nov 6, 2017
Link for registration & info: FASD November 17, 2017 Child Welfare Workers
---
FASD 1 oh 1 – Jeff Noble  

Date: Friday March 24th, 2017 @ 11:00am-4:00pm
Venue:  Jeff will discuss characteristics associated with FASD, understanding brain dysfunction, primary and secondary disabilities, strategies/interventions and schedules. This workshop will be of benefit to Caregivers, Educators, Youth Justice & Health Personnel, in order to better understand and support those living with FASD
Cost: $free
Location: Oxford-Elgin Child & Youth Centre, 912 Dundas St. Woodstock
To Register:  Please contact Penny Sim to register for this FREE workshop 519-539-0463/1-877-539-0463 ext. 230
Workshop info:  Jeff Noble FASD Oxford flier
(click on the flyer image in the link after)
---
Living with FASD Finding Purpose Workshop 

Date: Wednesday April 5, 2017    9:00 a.m.- 4:00 p.m.
Venue:

 4 part workshop, guest speaker Myles Himmelreich.  Myles is a well-known motivational speaker on FASD, having presented nationally and internationally for many years sharing his experiences in living with

FASD.




Cost: $75 for Professionals  $25 Student/Caregiver/Individual with FASD




Location: Bethany Community Church, 1388 Third St., St. Catherines


Workshop and registration info: Link